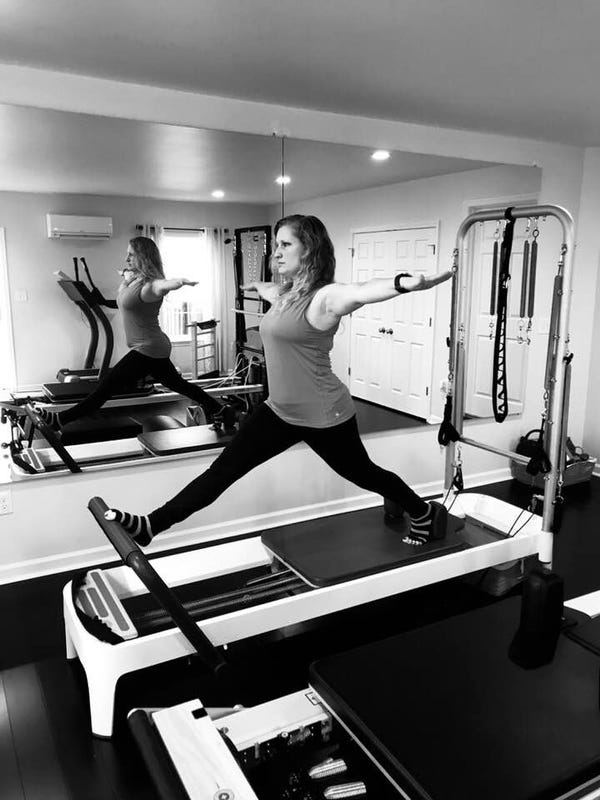 Pilates
EBP studio teaches primarily private sessions for the client who is focused on improving their way of life with private instruction 1-2 times a week while they perfect & pursue life, sports, & work the other days of the week.

EBP studio specializes in teaching highly skilled private sessions of smart & effective exercise to all levels of Pilates clients in a private, comfortable & quiet setting.



Inspiration. Motivation. Support.
EBP is located in a large, private & fully equipped home studio with a specialty focused on clinical & classical Pilates.

Private sessions will focus on proper cueing to awaken muscles with functional patterns of movement that translate to every day life.

Pilates truly is a smart form of exercise that has helped my clients combat the daily stresses of life.
Chair press up with handles
2 types of reformers: Balanced Body 'Allegro' & Stott Rehab each with Tower
Address
2641 Sir Thomas Way
Williamsburg, Va. 23185
Contact
kate.everybodypilates@gmail.com
(757) 250-7929
*leave a message or text, I may be with a client, and will get back to you ASAP.
Studio hours
Monday: 3:00-6:00pm
Tuesday: 3:00-6:00pm
Wednesday: 7:30am-6:00pm
Thursday: 7:30am-6:00pm
Friday: closed
Saturday: 8:00-9:00, 3:00-6:00pm
Sunday: by special request
*all times available by appointment only, please no drop-ins. Call to set your first appointment.*